Unsung Fashion Icons: Black Women on TV
If I asked you to name a fashion icon from a TV show, I can predict exactly who you might name with almost frightening accuracy: Fran Fine, Carrie Bradshaw, Hilary Banks, maybe even Blair Waldorf, depending on your personal tastes. Don't get me wrong, they're all There's truly no shortage of articles, Tumblr posts and tweets about their impact on the personal style of entire generations, and their influence is undeniable. But, they're pretty obvious. And if you've followed True Style for any amount of time, you know I hate going for the obvious.
With that said, let's take a stroll down memory lane and talk about some of my favorite (and most slept-on) fashion inspirations.
Willona Woods, Good Times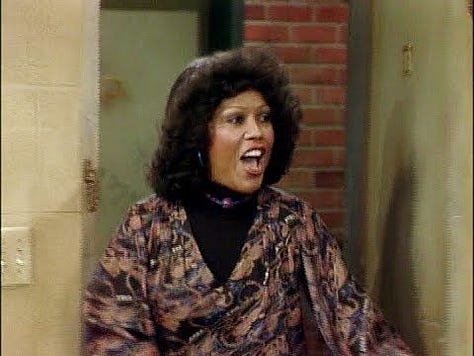 The Gossip of the Ghetto, one of the few (happy) divorced women to ever be featured on network television, and mother to Penny (played by Janet Jackson): Willona Woods was, as my mother would say, IT. Perhaps one of the first play aunties to ever be depicted on film, Willona was one of my first examples of chosen family. Even when Good Times was taking on tough topics like temporary layoffs and easy credit rip offs, Willona's endlessly fashionable entrances made scratchin' and survivin' a little easier. Ain't we lucky we got her? (P.S. Did you know JaNet sang the theme song for The Jeffersons? May she rest in peace.)
Why She's Iconic: Willona was sharp. From her crochet ensembles to her bellbottoms to her many, many hats, she was a walking runway show for all of the most iconic looks we think of when we think of the 70s. As a boutique owner, she clearly had access to all the hippest new arrivals and her vivacious personality was reflected in every outfit she wore to visit her friends in apartment 17C. But, on a realer note: Good Times was a show about the trials and tribulations of being poor and Black in America. Willona was a light, and a beacon of optimism even in plots that could hit a little too close to home for people living similar lives, including myself. To be so full of life, so fun, so fabulous in the face of adversity: what could possibly be more iconic than that?
Kimberly Ann Parker, Moesha + The Parkers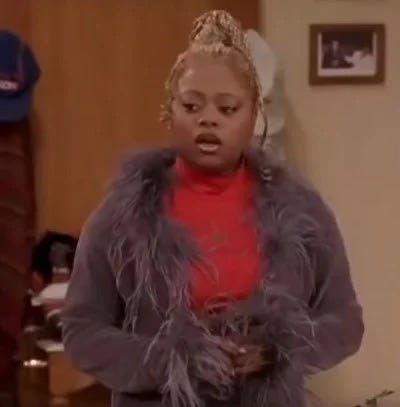 I have to admit, I was never really a fan of Moesha. While I was a huge fan of Brandy—I watched my Rogers and Hammerstein's Cinderella VHS until the tape came out, and was known for my bedroom performances of What About Us from the critically acclaimed 2002 album Full Moon—the show just never really did it for me. I always thought Kim and Niecy should be the stars. So, you can imagine my excitement when I got half my wish with the premiere of The Parkers, the Moesha spin-off focusing on mother-daughter duo Kim and Nikki (Parker) attending the same community college and the wackiness that ensued.
Why She's Iconic: We don't talk enough about how Kim was one of the first plus-size and stylish women we saw on TV. She gave us fur and feather trims; animal prints; even Gaultier. While fatphobia was a plot point more than once on Moesha, The Parkers just let Kim be her fabulous self. She would not only rock tight dresses and sheer tops, but also, she always had a man, and while male attention is nowhere near a priority now, it was amazing to see a not-thin, not-white woman be shown as desirable, fashionable, and leading the show.
Mona Thorne, Half & Half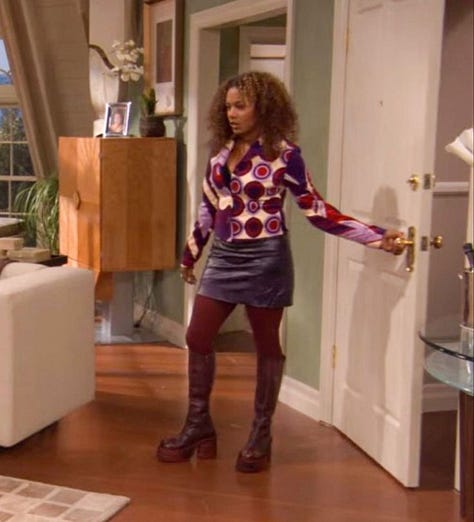 Eight years ago, when I first moved to LA and was living near the corner of Sunset and Gower—also known as the location of the famous Sunset Gower studios where almost every series mentioned in this article was filmed—I saw Rachel True exiting the Gower Gulch Starbucks. Later, when I was recounting the sighting to my friend, she said "who?" I replied "you know, from Half & Half!" I was met with a blank stare. "The Craft?" "Ohhhhhh!"
Now, the brilliance of both the film and fashions of The Craft simply cannot be overstated. But where Rochelle served as the perfect edgy schoolgirl inspiration for baby Lakyn in her uniform, Mona was the quirky, grown up, independent career-woman in the big city that adult Lakyn models her life after today.
Why She's Iconic: Maybe I was the only one who loved the platform boots at the time, but you can't deny their ubiquitousness (along with denim mini skirts, graphic prints and big ol' sleeves) today. That, alone, would be enough to solidify Mona as a fashion icon if she didn't also give us duster jackets, sheer layers, and so many gorgeous crochet pieces. I'll just say: there's a reason you don't remember any of Dee Dee's outfits.
(The Original) Aunt Viv, The Fresh Prince of Bel-Air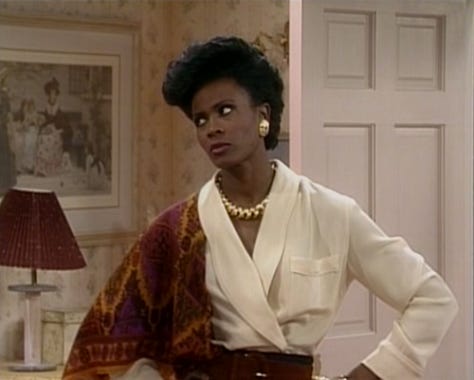 No offense to Daphne Maxwell Reid, but, there will never be another Aunt Viv. Whether she was giving the performance of a lifetime at a recording booth in the mall; giving frequent tongue lashings to anyone who deserved it—including Will, Phil, Carlton, or a bunch of wannabe gangstas in Compton; or giving us a timeless and iconic boom kak (and passing out immediately after): Vivian Banks as played by Janet Thee Huber did everything with grace, class, and style.
Why She's Iconic: The word "regal" doesn't even begin to cover it. With her powerful power suits, her strong shoulder pads and colorful touches of African and abstract prints, Vivian Banks was the poster child for sophisticated glamour. And, quiet as its kept, you can see her influence all over the oft-talked about Hilary Banks's style.
Shelly Williams, Eve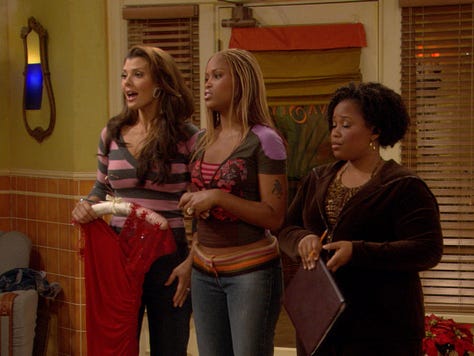 No, I don't know why the main character played by Eve on the show called Eve was named Shelly, and I don't care! I felt like Shelly, Janie (played by Natalie Desselle, RIP), and Rita (played by Ali Landry) were my best friends—way more supportive and, at times, relatable than my Girlfriends (though I loved me some Girlfriends, too, don't get me wrong!)—especially since they had my dream career: running a boutique full of their own designs.
Why She's Iconic: Because she's the type of chick who likes to wear fly clothes and rock stilettos but will get ghetto, as Missy Elliot told us in the theme song. Shelly was undeniably glamorous with her bold pattern mixing, tiny spaghetti strap tanks with hip hugging jeans, and cowl neck halter tops. She played with color, changed up her hairstyle every single episode (sometimes multiple times), and styled the trends of the early 00s in ways that still eat, today.
Zaria Peterson, The Parent 'Hood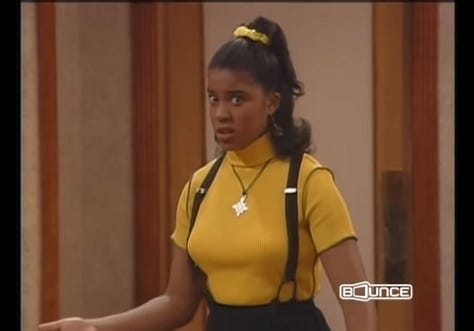 I'm pretty sure the first time I begged my mom to press out my hair was directly because of Zaria Peterson. When I put on my zig-zag headband from the Dollar Tree, my corduroy overalls from Value Village, and my hoop earrings I stole from my cousin, you couldn't tell me I wasn't about to go on a date with fine ass Shakim (played by Nigel Thatch).
Why She's Iconic: Do you see that hair??? Pigtails, half up half downs, scrunchies, tiny braids and pom poms: Zaria was the ultimate in hairspiration. Coupled with her love of mini skirts, oversized jackets and crop tops, and I'm like, literally in shock that more people don't talk about her as the style icon she was and is to this day.
Sandra Clark, 227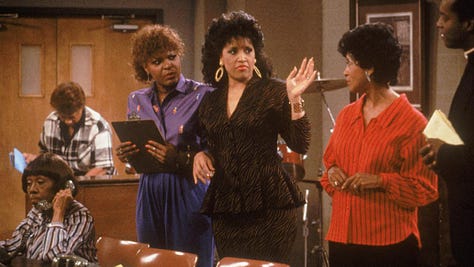 Before I understood the concept of actors playing different characters, Jackée Harry was who I aspired to be. I first fell in love with her as the sexy, man-crazy, bold-but-never-tacky, witty Sandra Clark, living in an apartment building with all her friends which, as a [redacted]-year-old child, was obviously the dream. Later, I saw her on Sister, Sister as fashion designer Lisa Landry, with an adopted daughter who, through a wild stroke of fate, ended up living in a luxurious home rent-free. And she did it all with the perfect cleavage.
Why She's Iconic: Has anybody on Earth ever made a peplum look quite so good? There was such a sexy sort of class to Sandra's wardrobe: co-ordinating sets, bodycon dresses, furs and jewelry gifted her by her many, many suitors. She was the epitome of fabulous, and her big hair and tight skirts paved the way for certain other sassy, single style icons *cough*Fran Fine*cough*.